Episodes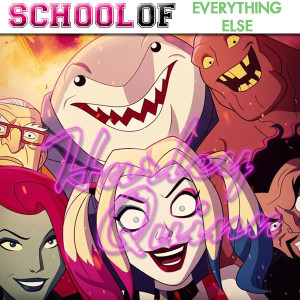 Friday Jul 29, 2022
Friday Jul 29, 2022
[School of Everything Else 2022]
The initial trailers for this one had me groaning. We were still pre-Birds of Prey movie so it was easy to assume the touchstone for this one was the first Suicide Squad movie, plus extreme cartoon violence and crudity. Well I was right about the second two!
Turns out this is one of the smartest, most psychologically explorative of DC's vast back catalogue of superhero TV. Primarily because it is framed first as a relationship drama, second as a comedy and third as a DC world. But even with that lowered priority and an emphasis on wild chaos there is still the flavour of authenticity about the vast majority of the characters. This writing and production team have paid attention.
And crucially, after teasing us with an early on meeting and lightning chemistry between Harley and Ivy in Batman: The Animated Series way back in 1993 we finally get to see them cultivate a close friendship onscreen... At least it *would* be ONLY a close friendship if this were Disney. So thank goodness it's not!
For this episode we steer clear of serious spoilers until a dedicated section at the end, so even if you haven't seen any episodes you can listen to this.