Episodes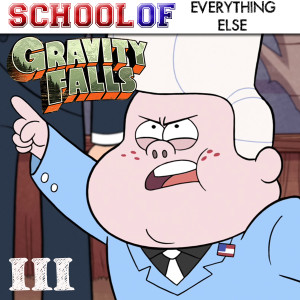 Friday Dec 18, 2020
Friday Dec 18, 2020
[School of Everything Else 2020]
Part 3 of 6
The third of three shows on Season 1 of Gravity Falls. Season 2 will be covered in 2021.
We round off the first batch of episodes with a showcase of villainy, as a crazed piglet who holds small-town America in his thrall seeks unlimited power for himself. And on the other side of the reality curtain, a chaotic yellow triangle man hatches his schemes.
There's also a hilarious take on boy bands which was in fact creator Alex Hirsch apologising to his sister Ariel for being such a scornful bounder, admonishing her musical taste when they were tweens. 
Episodes Covered: Boss Mabel/Bottomless Pit/Carpet Diem/Boys Crazy/Land Before Swine/Dreamscapers/Gideon Rises
Guests:
Victoria Luna B. Grieve:  @VixenVVitch 
Theo Leigh of The New Century Multiverse
From Sequentially Yours  Kaoru Negisa  @Moonpanther22
and Debbie Morse  @bastet8300