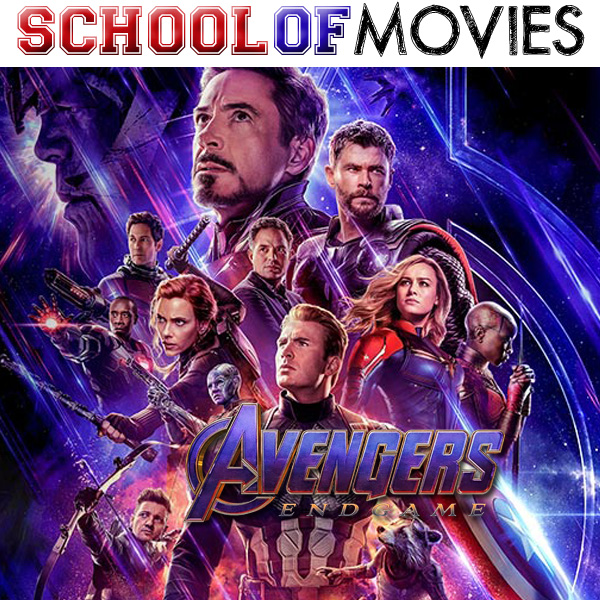 [School of Movies 2019]
How could we possibly sum up this immensely important, densely packed three-hour odyssey that closes out eleven years and 22 movies worth of continuity?
The solution we came up with was a feat of organisation, collaboration and editing elegance that focuses on character arcs resolving and continuing with viewpoints from the biggest assembly of guests we have ever had in a single sitting.  Appropriate, wouldn't you say?
Plus a wildly speculative Patreon bonus show all about the plot mechanics and the future of the MCU. This is one of our very best. 
Guests
Brenden Agnew of Cinapse  @BLCAgnew 
Maya Santandrea of Hollywoo  @mayasantandrea 
Jesse Ferguson of Recorded Tomorrow @TheDapperDM 
Neil Taylor of TheKidDogg @KidDogg 
Jerome McIntosh of GameBurst @JeromeMci
Mackenzie Easton  @KenziePhoenix of Rainbow Connection @MuppetsPod  
From Sequentially Yours  Kaoru Negisa  @Moonpanther22 
and Debbie Morse  @bastet8300 
"The Men by the Lake" written and read by Alasdair Stuart of Escapeartists.net @AlasdairStuart  
And we are @SchoolOfMovies 
Find our Patreon here:  https://www.patreon.com/alexandershaw where you can support our weekly shows and get access to all sorts of bonus goodies including an hour-long bonus episode on Endgame wherein we talk about time travel and where Marvel go from here. 
The New Century Multiverse podcast can be found here: https://newcenturyshow.podbean.com/