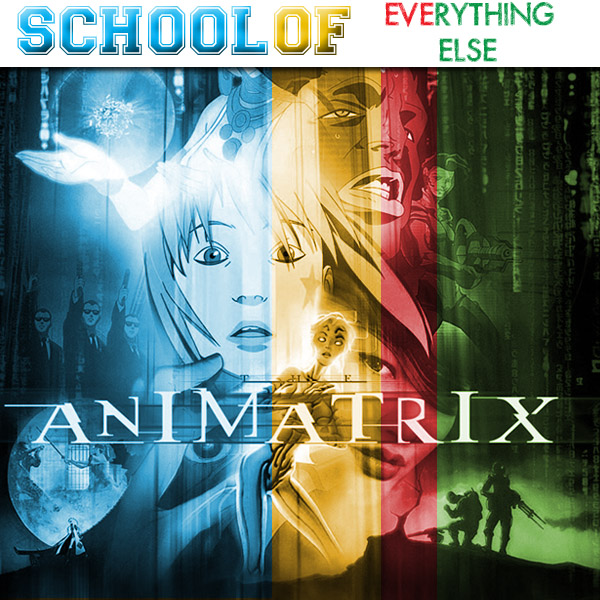 [School of Everything Else 2022]
A very solid argument could be made for this being a movie, and thus being in the "Everything Else" category being erroneous. However, the focus of this episode is the trans-media endeavour that The Matrix series became. 
It straddles four films, a PS2 game named Enter The Matrix, an MMORPG named The Matrix Online and this anthology of nine short animated films, and it is ALL official story canon. The only release which doesn't quite fit this is The Path of Neo, another PS2 game which fills in the blanks of Neo's journey towards fulfilling the prophecy of The One, and while most of it probably happened the end is a direct departure, or at least an abstraction of the narrative. 
So that's what powers this discussion, and The Animatrix is absolutely worth watching now, though as you will hear it is not only surprisingly violent and grim at times, but the shorts vary in depth rather significantly.
Next week we conclude the original Trilogy with the Matrix Revolutions
Guests:
Brenden Agnew @BLCAgnew of Cinapse
Victoria Luna B. Grieve:  @VixenVVitch 
Alexa Vargas @Plutoburns whose YouTube channel is here
Mackenzie Eastram  @KenziePhoenix of Rainbow Connection @MuppetsPod and Video Game: The Movie: The Podcast  @VGTMPodcast