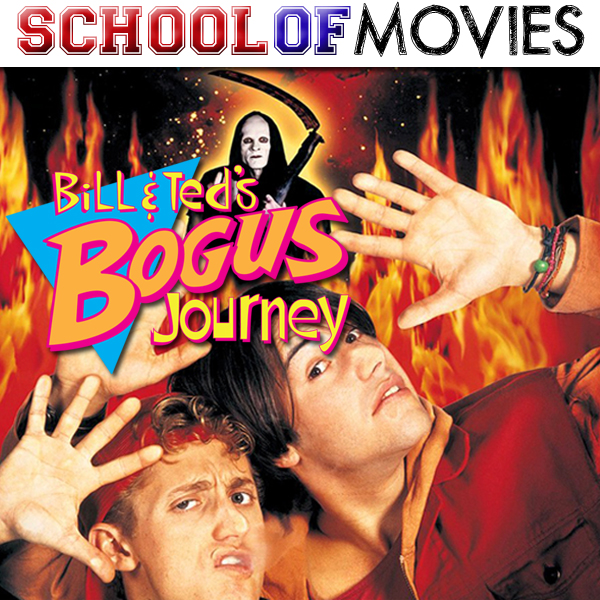 [School of Movies 2021]
We got some real love for our Excellent Adventure show. It seems like you folks were responding to the pure joy threaded throughout, so let's see what we can do for the black sheep of the B&T Trilogy. This sequel turned up just two years after the first, having been hastily greenlit when executives got dollar signs in their eyes and saw franchise potential.
The writers began with a re-tread of the original, where the duo went through great works of literature and dragged out the characters for yet another school report. Then when they got to Moses and company from religious texts, it was decided this should get more metaphysical. So it became "Bill & Ted Go to Hell" and the rest of the film was written around how that could have happened. Who killed them? Why a pair of evil, robot doubles from the future! 
It did not delight audiences. But as we delve deeper than even Ed Solomon and Chris Matheson could have predicted we would like to present to you, some of the reasons why this movie is actually not Bogus at all.
Tweet us @SchoolofMovies with what you think about Station. 
Guests:
Rachel Schenk @IAMRachelQuirky 
Scott Thomas @OGScottieT 
from And the Winner Is
BOTH also from The Infinity Podcast 
Jesse Ferguson @TheDapperDM 
from the Recorded Tomorrow Podcast