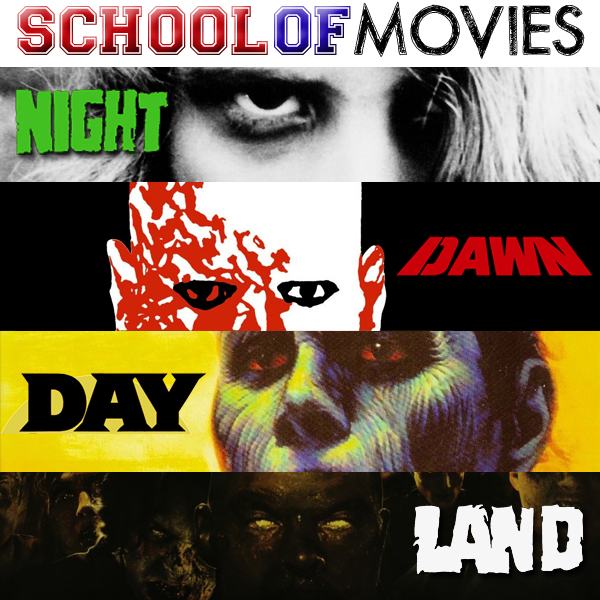 [School of Movies 2017]
This show was recorded in the autumn of 2016 less than a year before George A. Romero passed away. A listener named Innes Clatworthy made a generous donation and I asked him if he'd like us to do a show as a thank you. He asked for one of the Romero zombie films. Never one to do things by halves we covered the first and best four.
I've already fielded questions as to why Survival and Diary aren't on this list but it boils down to three reasons; 1, the show is already 2h 45m long, 2, they don't really fit with the first four and 3, we don't like either of them one little bit, so we have nothing to say about them. 
In fact quite a lot of this episode is about unseating the original Dawn of the Dead, from its throne of "Best Zombie Movie" and highlighting the qualities of Land and Day in particular. 
That being said, what we know as a zombie in pop culture would be very different today were it not for at least the first two, astonishingly influential films (as well as some legal rights mumbo jumbo).
So get your machete's ready (chainsaws are heavy, noisy, fuel-dependent, and more likely to kill the wielder than a zombie) and let's start exploring the bleak, shuffling landscapes inhabited largely by the Living Dead. 
Guests:
Kaoru Negisa & Debbie Morse of Sequentially Yours
Brendan Agnew of Cinapse