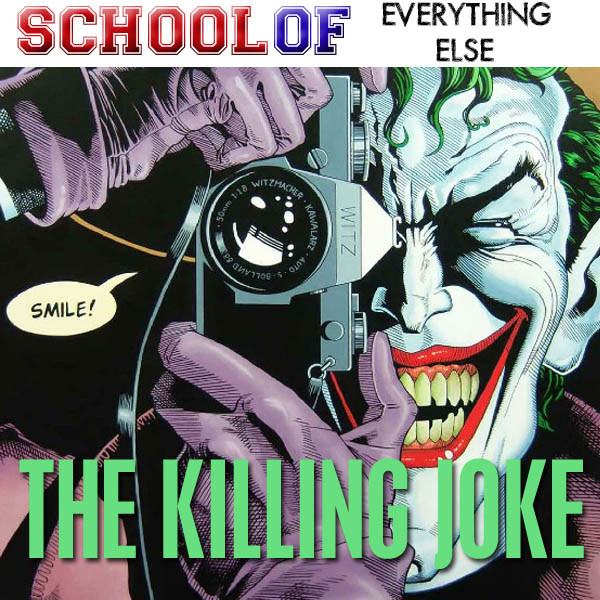 [Digital Gonzo 2013]
This is an audio drama adaptation of The Killing Joke: written by Alan Moore, and originally illustrated by Brian Bolland for DC comics in 1988.
This show is dedicated to Mark Hamill and Kevin Conroy, two of my all-time heroes. Their inspirational work is a key reason why I love Batman so much, and their immense talent as voice-over artists is what made me want to produce performance pieces like this. All credit to Alan Moore for his excellent writing. The few minor changes I made were to facilitate the audio format. Also artist Brian Bolland.
If you enjoyed this, do please check out Batman: Breakdown, which is an original story written by myself and rendered into an accompanying audio drama. You can find it on this podcast feed or on YouTube. As a bonus for newcomers I've included the first six minutes of Breakdown to act as a taster at the close of this production.
If you like my work on this you should check out my original audio drama, The New Century Multiverse, the previous stories are available in audiobook form on Bandcamp with new episodes released as a weekly podcast. 
A huge thank you to my cast, without whom, this would be a considerably less vibrant production.
Cast (in order of appearance) 
JOKER/JACK – Alex Shaw
KILLER CROC/TWO-FACE – Alex Shaw
BATMAN – Alex Shaw
FRIGHTENED INMATE #2 – Matt Whetter
JIM GORDON – Matt Ramsey
GUARD BILL – Jerome McIntosh
BOB BONUS – Daniel Floyd
JEANNIE – Sharon Shaw
BATCOMPUTER – Tara Nelson
ALFRED PENNYWORTH – Matt Ramsey
BARBARA GORDON – Laureta Sela
GANGSTER JOE – Lorin Grieve
GANGSTER JAKE – Alex Spencer
DOCTOR – Joshua Garrity
HARVEY BULLOCK – Daniel Floyd
CIRCUS FREAKS – Matt Whetter
DETECTIVE MOORE – James Batchelor
OFICER BOLLAND – Nama Chibitty
DON SENIOR – Matt Whetter
ROB SENIOR – Andres Rodriguez
GAMBOL – Aquila Edwards
OSWALD COBBLEPOT – Matt Whetter
STREET GIRL – Sharon Shaw
SECURITY GUARD JUDD – James Batchelor
SECURITY GUARD MURPHEY – Nama Chibitty
CREDITS - Giles Thomas