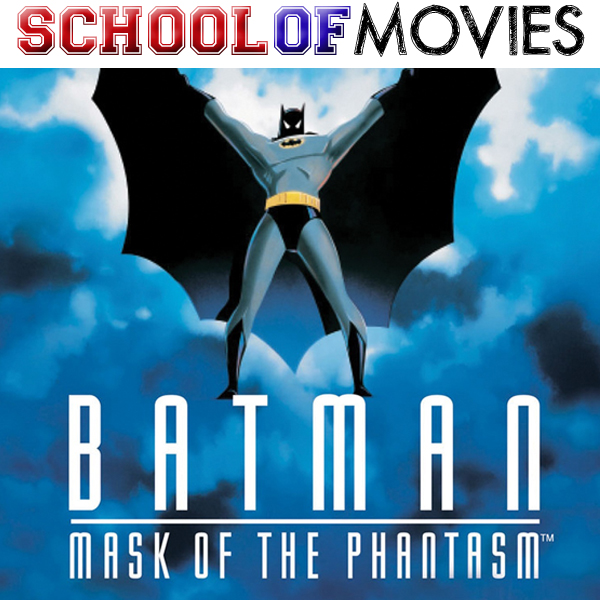 [Digital Gonzo 2012]
0m: A look at four animated batman movies. This time we're taking a deep dive into the absolutely underrated box-office bomb, virtually unknown by the general public, but possibly best film about Batman until the Nolan films came along; Mask of the Phantasm. By extension this allows us to talk about the Animated Series which this sprang from unexpectedly for all.
Kevin Conroy and Mark Hamill head up the cast of relative unknowns in this melodramatic film noir which explores a key relationship at Bruce Wayne's turning point as he assumes the cowl and cape of The Dark Knight. And in the present day he has to deal with the shadowy and murderous Phantasm as well as a rather terrifying Joker. If you like Arkham Asylum, you will recognize the voices and where that world began. Absolutely do pick this up and see it. The show has some prominent spoilers after a certain point.
1h 22m: 1. Year One (2011): The retold origin by Frank Miller, published in comic form in 1987. This film focuses on Bruce first donning the cape and cowl at the same time that Jim Gordon arrives at Gotham City PD and encounters overwhelming corruption. This was the inspiration for Batman Begins and  Mask of the Phantasm and reminded everyone of the tragic event that caused Bruce Wayne to dedicate his life to fighting crime.
2. Under the Red Hood (2010): Based on Under the Hood by Judd Winnick, this is a very personal story about Bruce being confronted by a shadowy figure from his past and a complex, emotional revenge tale. Genuinely frightening at times with a new portrayal of Joker courtesy of John DiMaggio.
3. Batman Beyond: Return of the Joker (2000) The finale for the three-season series wherein an aged and crippled Bruce Wayne attempts to train a new Batman to protect Gotham. When the Joker shows his grinning face for the first time since his apparent death 50 years previously, all Hell breaks loose and we learn sad and disturbing secrets about how things ended with Robin and Batgirl.
Guests:
Neil Taylor of TheKiddDogg
Joshua Garrity of Cane and Rinse
Jerome McIntosh of GameBurst
Paul Gibson of Gonzo Planet
James Perkins of The Digital Fix